How to Onboard and Build Trust with Your Gig Workers
A look at what your gig workers want from you and your company and how you can help retain them longer.
According to Forbes: "Even before the coronavirus pandemic, it was estimated that by 2023, 52% of the workforce will have worked or will be working independently. Today, it is estimated that the gig economy already contributes over $1 trillion to the U.S. economy."
Uber and Lyft, and the emergence of the ride-sharing industry contributed to much of this gig-worker growth, but now workers in virtually any industry - and any position - can, and are, working remotely. All of this is fueling interest in gig work among both employers and employees.
There are some unique challenges in managing a gig workforce. One of the first involves onboarding gig (contract) workers, who are often remote, and possibly part-time, to ensure they make maximum contributions to the organization and feel engaged and included. Read on for some best practices for efficient and effective onboarding to build trust with your new contractors and help build your company a reputation as an employer-of-choice.

Streamline the Paperwork Process
The paperwork in the onboarding process has long been the bane of both HR professionals and employees alike. There can be stiff penalties for failing to comply with federal, state, and even some union requirements from each contractor you hire. Required paperwork to remain compliant with governing bodies and safe from legal issues includes, but is not limited to:


Copies of a valid proof of residency and tax ID number

An independent contractor agreement outlining insurance, termination, payment and expenses procedures, and relevant warranties and indemnities

W-9 forms

The appropriate

1099 form

And any non-disclosures, confidentiality, non-compete, or non-solicitation agreements
If you regularly hire gig workers, this amounts to a lot of paperwork to process and keep for records. But gone are the days when a contractor needs to fill out compliance paperwork by hand or supply you physical copies of IDs.

New hires can quickly, easily, and securely share information and fill out all paperwork legally required online to get them entered into payroll systems and set up for secure online payments. Digital filing saves time and money on administrative costs and facilitates better record-keeping of all worker (gig, remote, temp, permanent) submissions across office departments and locations.


Demonstrate Transparency and Professionalism
Trust has always been tough to develop, even in face-to-face work environments. In a virtual environment and with gig workers, establishing trust can be even more challenging. Through transparency and professionalism, employers can help gig workers hit the ground running and lay the foundation for long-term engagement, loyalty, and productivity.

Gig Worker Payments
Visibility and professionalism around payments are critically important. Many gig workers are understandably concerned about whether, how, and how quickly they will get paid. By being transparent—providing an online dashboard, for instance, where contractors can instantly see, in real-time, the status of their payments, and pay history, can alleviate the angst related to financial concerns. Employers able to offer this kind of simplicity also set themselves apart as modern, efficient, and responsive to employee needs.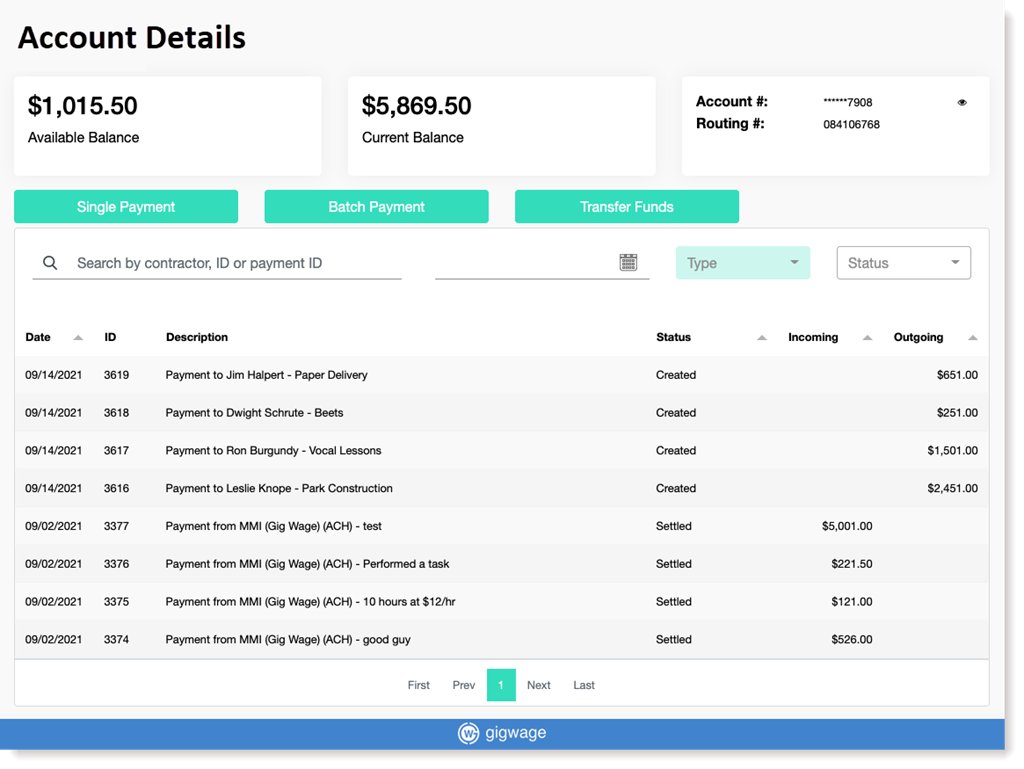 Set Gig Workers Up for Success With Relevant and Appropriate Training
Gig workers may require a wide range of training and support when first onboarded and during their relationship with the organization. This can range from documentation related to the work they will be performing, access to important company information, details on the communication system(s) available to interact with peers, and, of course, how to submit paperwork to receive payments and access information about their payment statuses. Offering a positive user experience with seamless access and the availability of online help and support desk functions help gig workers get the support they need while minimizing administrative costs. This also goes a long way in building trust in you as a solid employer.

Provide Easy Access to Collaborative Tools
The online workspace is increasingly collaborative with the widespread availability of tools to facilitate interactions (e.g., tools like Zoom or Microsoft Teams), manage projects (tools like Slack or Basecamp), and more. The digital space now provides employees, including gig employees, access to information and interactive tools across a wide range of devices that they can access at any time, regardless of where they may be geographically. That includes access to payment information and the ability to submit invoices, expenses, etc., for rapid reimbursement.
The gig economy is growing, with no signs of slowing. As you build your bench strength through the talent of gig workers across a broad range of jobs, consider how you will effectively onboard these workers to ensure they're quickly able to contribute and stick around—and that you're quickly able to reimburse them for the value they provide.

How Gig Wage Can Help
We power instant contractor payments your workers can trust in. We do this by:
Modernizing, automating, and scaling your payroll

–

Easily make payments to thousands of virtual workers

Streamlining contractor payments

so you can quickly recruit and retain workers

Collecting W9 information and automating 1099 creation and IRS filing –

Always stay W9 compliant!
Reach out to our team to learn more!